Pastor D. Omar Epps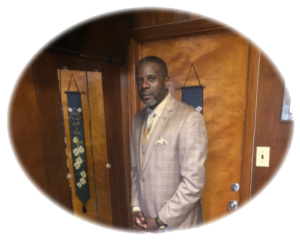 D. Omar Epps, Pastor of the Bryant Baptist Church at 1140-44 S. 19th Street was licensed to preach the Gospel January 9, 2000 by his Pastor Rev. Wilbert Crew Pastor of the Lovely Baptist Church 728 Snyder Avenue in Philadelphia PA. (to GOD be the glory!!!) Prior to being licensed, Pastor Epps served as a walking Deacon. It was during this time when he was asked to bring forth a word one Sunday morning that Pastor Crew realized his calling into the ministry (1Timothy 1:12). The Lovely Baptist Church sent Pastor Epps to the Manna Bible Institute where he graduated in 2003.
Pastor Epps was then ordained by Pastor Crew and the Lovely Baptist Church in January of 2004. (to GOD be the glory!!!) In January of 2008 under the guidance of the Holy Spirit Pastor Leroy Scott Jr. cast his mantle upon Pastor Epps to be the new Pastor of the Bryant Baptist Church.
(to GOD be the glory!!!)
In 2009 Pastor Epps enrolled in the Full Gospel Baptist Church Institute to receive his Bachelor's degree. His favorite Gospel songs are because he lives, I love the LORD and to GOD be the glory his favorite secular song is wake-up everybody his favorite scripture is 2 Timothy 1:12.
His bio: 
His past life is forgiven of him
His new life is in him
His calling is from him
His message is about him
It's all about JESUS with him!!
Order of Service
Sunday
10:00 a.m. Sunday School Ministry

11:00 a.m.  Devotional Service

11:30 a.m.  Morning Worship Service
  
Monday
6:30 p.m.  Men's' Bible Study Ministry  
Tuesday
6:00 p.m.  Prayer Meeting & Bible Study
  
2nd Sunday 

Bryant Baptist Church
1140-44 S 19th Street
Philadelphia, PA 19146
Email: contact@bryanbaptistchurch.org